Google Webmaster is a useful Tool which provides the stats and analysis of your blog. We can also say that it is an SEO tool which also helps you to increase search engine optimization of your blog or site ranking. To see the performance, stats, information and data of your blog firstly you have to verify your blog in Google Webmaster or if you create a new blog then I recommend, firstly you should have to verify your blog in Google Webmaster. Google will automatically fetch the blogs but it will take time but if you want to see your blog in Google search result as fast then verification of your blog you must submit your blog to Google Webmaster, which fetch your blog as early as possible.
Why Webmaster Tool Is Used ?
It is used to submit your blog's content on Google.
It is used to monitor and maintain your site's performance on Google Search results.
Which links you want to submit or which links you do not want to show on Google Search results, all you can manage from Webmaster Tool.
It monitor your site and helps to protect from malware and spam issues and resolve it.
So who are new on blogger and didn't submit their blogs on Webmaster Tool then go and submit it. We are explain here simple steps to to verify your blog in Google Webmaster Tool.

Steps To Verify Blogger Blog In Google Webmaster Tool
Search Webmaster Tool on Google and open it.
Login Webmaster Tool. You can also login with your gmail account.
After open >> Go to right side top >> Click on Add Site.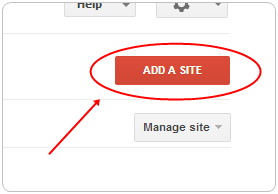 Then there will be open a dialog box in which you have to put your blog URL.


After adding your blog URL there will open another dialog box in which it will show you two methods "Recommended method" and "Alternate methods" but you have to click only on alternate methods.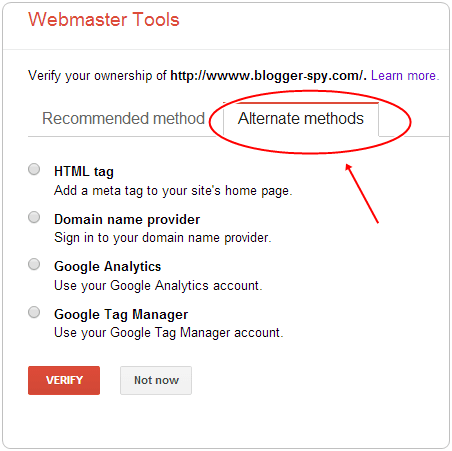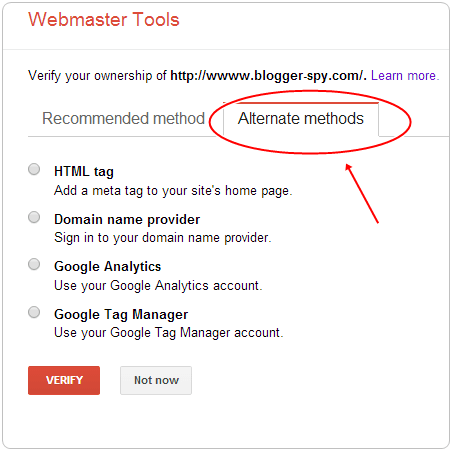 After choosing Alternate method >> Click on HTML tag There will show you meta tag.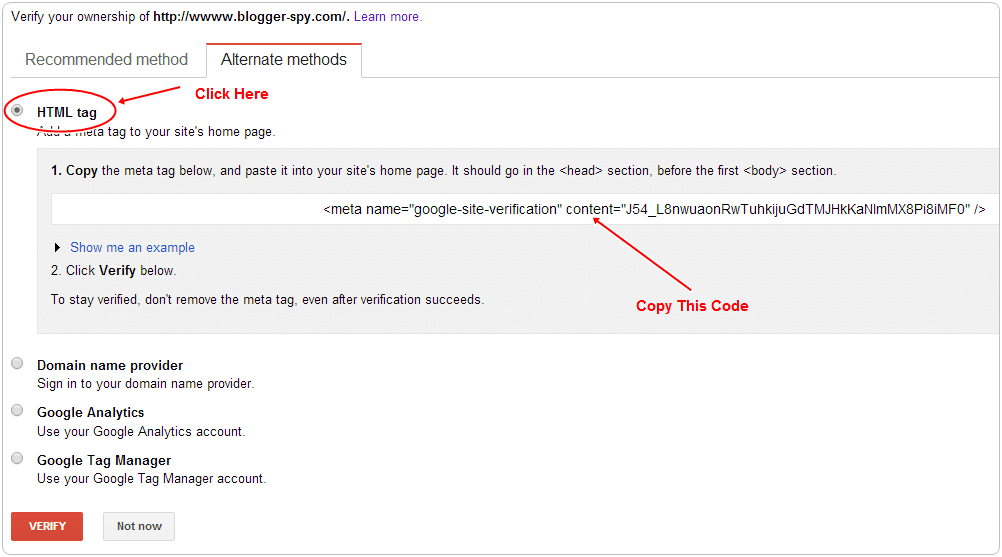 Copy the meta tag >> Go to your blog template >> Find the <head> tag and paste this code below <head> tag.


After pasting meta tag >> Click on Verify button in webmaster tool.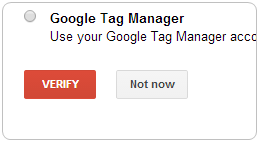 And then it will notify you that your blog have been successfully verified. And click on continue to manage your blog.


There are also some other methods
By uploading HTML file:- If you have self hosting and move your blogger blog to the hosting then you have to upload an HTML file to your self hosted server for this you have to access to FTP of the domain for verification.
Domain name provider:- In this method firstly you have to sign in your Domain name provider like ( GoDaddy.com and Bogrock.com etc ) or where from you buy hosting then you have to add new DNS record or some cName records.
I hope these steps can be helpful for you to verify your blog. If you face any problem regarding these steps then feel free to ask and comment it. I will try to my best to help all of you.
Related Articles: